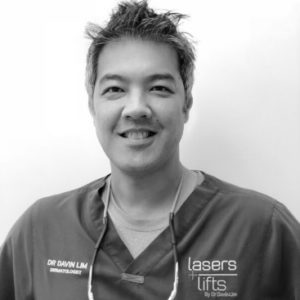 Dr Davin Lim is an Australian board certified and fellowship trained laser, procedural and aesthetic dermatologist. He is also a member of the American Academy of Aesthetic Medicine.
After completing his medical residency in Brisbane, Dr Lim undertook his preliminary dermatology training in Sydney under Dr Rosen and Dr Hoare, a famous dermatologist from St John's Hospital in the UK.
In 2001 he was the first Australian to be trained under the Irish Association of Dermatologist, and started his residency in Dublin and Drogheda, under the training of Dr Tony Egan, and Dr
Gillian Murphy. Training in Ireland was invaluable as both the UK and US dermatology syllabus was taught. During this time Dr Lim published over 12 papers and was involved in several clinical research trials for photodamage, actinic keratosis and inflammatory skin diseases.
In 2003 he undertook further dermatology training in the United Kingdom under the British Association of Dermatologist. As a registrar won the Registrar's Prize for Clinical training. He completed his training in Australia at both the Royal Brisbane and Princess Alexandra Hospitals. Throughout his residency training he focused his interests in cosmetic and laser dermatology.
Upon completing his board exams, Dr Lim was awarded the American Academy of Dermatology travelling scholarship. His passion for learning has never ceased, as Dr Lim travelled
extensively in Asian an the US to learn more on laser and aesthetic procedures, bring back his knowledge to Australia.
Dr Lim's practice is dedicated to facial cosmetics and laser dermatology, using a combination of surgery, laser and energy based devices as well as muscle relaxants and fillers. He is considered a World expert on procedures such as tattoo removal, acne scar revision, as well as laser resurfacing. He has pioneered several cosmetic procedures including new delivery methods for TCA CROSS, the role of RF in preventing acne scarring, High Density Fraxel for the treatment of sun damage, modified subcision techniques combined with dermal HA filler and his 'Hybrid" method of laser resurfacing. His techniques has evolved how current methods are taught to specialist.