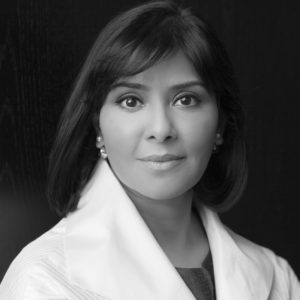 MS, FRCS.
Aesthetic Ophthalmic Plastic Reconstructive Surgeon Director Perfect Eyes Ltd. and Oculo-Facial Aesthetic Academy (OFAA)
Mrs. Sabrina Shah-Desai, is a leading Ophthalmic Plastic Reconstructive and Cosmetic Surgeon internationally recognized as an expert in non-surgical and technologically advanced cosmetic treatments, being voted as one of the Global 100 most influential aesthetic practitioners 2019.
Recognised by her peers and industry experts as a peri-orbital specialist with surgical, dermatological and aesthetic experience, she occupies a unique position globally. Her innovative effective treatments combining surgical and non-surgical modalities are based on an in-depth scientific knowledge and experience of eyelid anatomy, peri-orbital skin conditions and ethnic ageing.
In her London-based boutique clinic, she not only treats a spectrum of eyelid diseases, but also practices Cosmetic Rejuvenation treatments, ensuring the highest quality and safety standards. She has pioneered a highly effective and much sought-after tear trough filler treatment Eye-boost™ using a biplanar technique to naturally restore the delicate periorbital area. Her special interest lies in 3-Dimensional aesthetic restoration of the eyes, face, and neck, using surgery, ultrasound, threads, fillers, toxin and skin resurfacing to create natural harmonious results, which she calls the Perfect 360 ™ . She specializes Cosmetic eyelid lift surgery (Blepharoplasty), scar-less droopy eyelid correction (Ptosis) and revision surgical and non-surgical treatments.
Mrs. Shah-Desai is passionate about education and safe aesthetic treatments, and founded the Oculo-Facial Aesthetic Academy (OFAA) in 2016 to improve training standards in Aesthetic Medicine. She is a Key Opinion Leader for the Aesthetic Industry & an invited speaker at international conferences and travels the world educating surgeons & aesthetic practitioners in her innovative, minimally invasive and state of the art techniques. She has authored book chapters and many scientific paper's and her research is published in peer reviewed medical journals and textbooks. Mrs. Sabrina Shah-Desai is member of the British Oculo Plastic Surgery Society (BOPSS), The Royal College of Surgeons (Ed), The Royal College of Ophthalmologists, Inter specialty member of British Association of Plastic Reconstructive and Aesthetic Surgeons (BAPRAS) and honorary member of The Association of Plastic and Reconstructive Surgeons of Southern Africa (APRASSA).