ROBERTA DEL CAMPO | UNITED STATES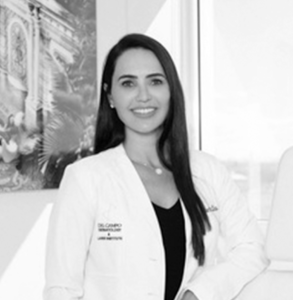 Roberta Del Campo, MD, is a board-certified dermatologist specializing in medical and cosmetic dermatology in Miami, USA. She is the founder and medical director of Del Campo Dermatology & Laser Institute.
Her training includes an academic appointment, a cosmetic dermatology and laser fellowship, an academic appointment, and a dermatology residency at the University of Michigan Hospital in Ann Arbor, MI.
In addition to practicing in the Miami area, Dr. Del Campo is involved in dermatologic research and various dermatologic organizations, including the American Academy of Dermatology and the American Society of Dermatologic Surgery, where she was selected as one of seven "Future Leaders" in 2018. For her year-long Future Leaders Network project with Dr. Tina Alster, one of the country's leading laser specialists, she developed the first web-based interactive algorithm to purchase laser and energy-based devices.
She has published over a dozen articles in her specialty and is a consultant and trainer for several aesthetic companies, including Merz and Aerolase. She is a member of the Aerolase Medical Advisory Board.