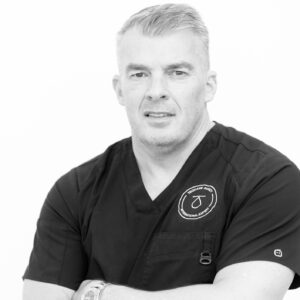 Dr Lee Walker BDS MFDS, is an aesthetic dental surgeon, director and clinical lead at the multi-award winning BCity clinics, Liverpool and has over 20 years' experience in the field of medical aesthetics. He is a visiting Professor of Aesthetic Medicine at the Andres Bello University Santiago, Chile.
As part of his commitment to medical safety, Dr Walker is the chairman of the complications in medical aesthetics collaborative (CMAC)UK. He provides guidance and advice on complications related to non-surgical treatments. He has produced internationally published peer reviewed publications on blindness, hyaluronidase and vascular occlusion, co-authored several chapters in medical aesthetic literature and has published a book on injection anatomy and facial aging.
Dr Walker is a renowned global KOL who regularly shares his knowledge internationally, having educated medical professionals in over 30 countries and across 5 continents.
Dr Walker has been awarded memberships to the prestigious Royal College of Surgeons in both Scotland and England. He also holds a postgraduate qualifications in clinical and medical education.